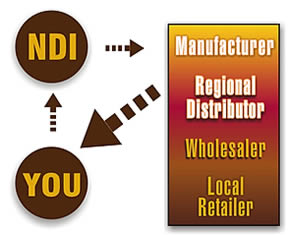 Technology is changing the way you purchase some of your most valuable consumer products and the way you vacation. With the use of leading edge computer technology, capable of accessing savings on consumer products and vacations, the NDI program is the choice for thousands of families just like yours. Highly qualified and experienced personnel are equipped to provide you with access to both vacations and merchandise at the best possible prices. Toll-free numbers and websites allow you fingertip access to all of your wonderful membership benefits.
Our service provides significant savings to our members on a wide variety of products...
Statement of Savings
IT'S AS EASY AS.........
1. Call toll free or visit on-line with model number and brand name
Product Categories
2. Receive guaranteed lowest price on merchandise
3. Order product with MasterCard / Visa / Discover / American Express / Check
NDI is spanning three decades, and is currently serving over 150,000 members. We would like to welcome and congratulate all of our members on making a great decision and a wise investment.
Serving our members SINCE 1971
Mission Statement:

Our members are the focus of everything we do. We understand that, as a company, we must never lose sight of the commitment we make to those who buy our services and products.
We are dedicated to continuously improve the quality of everything we do and to offer superior service to our members.
Through listening to the needs of our members, we strive to add continuing and increased value to our membership program.
We make every effort to respond in a timely fashion with a sense of warmth, friendliness, professionalism and company pride.
Our mission statement has always governed the way we conduct our business. It highlights our desire to serve our members and gives us direction.

Service Center

Our professional staff of Personal Shopping Assistants (PSAs) are here to assist you.
Their goal is to help you enjoy your membership by saving you both time and money as you make purchases through the service. They strive to offer the best possible service and stand ready to answer any questions you might have. Give us a call and we will be happy to assist you.

Serviced By:

Executive Merchandising Services
5360 College Boulevard
Suite 200
Overland Park, Kansas 66211

Service Center: 1-800-879-7779
Hours of operation (CST):
Monday - Thursday: 8:00 a.m. - 7:00 p.m.
Friday: 8:00 a.m. - 6:00 p.m.
Saturday: 8:00 a.m. - 12:00 p.m.
Internet Access
Our website offers 24-hour, 7-day, fast and easy access to:
Product Pricing

Product Images, Descriptions and Features

Product Purchasing

Order Acknowledgment

Order Status

Shipping and Tracking Information

Offline Quotes

Special Buys

Updating Your Membership Information